The new Teesdale 2022 Calendar by Andy Beck is now in stock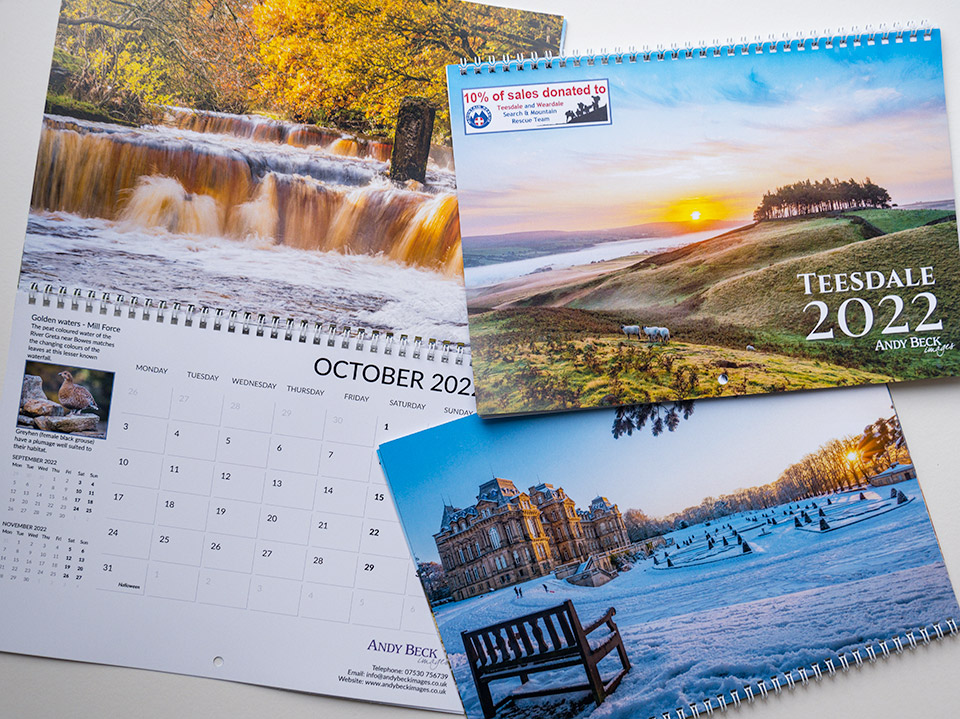 Once again Andy has produced a calendar of his recent photographs taken around his "local patch" of Teesdale. This year he has chosen to support his local volunteer search and rescue team, Teesdale and Weardale Search and Mountain Rescue Team by donating 10% of all sales to this worthwhile cause.
In a change from previous calendars Andy has designed the calendar so that it not only shows off the wonderful landscapes of the dale but also the wide variety of flora and fauna found in Teesdale. These feature in small images on the diary section of the calendar.
All of the images were captured between September 2020 and August 2021. "Even though we were at times under lockdown restrictions I was able to capture aspects of the dale on my local daily walks. It just reflects the variety of subject matter to be found here in Teesdale. A real inspiration to me as an artist and photographer."
As with previous years, the cost of the calendar is just £10.00. Post and packaging is £3.50 using Royal Mail 1st class postage. There is free P&P for all orders made in the DL12 postcode.
To order your copy of the Teesdale 2022 calendar :
Teesdale 2022 Calendars with P&P
Free delivery option (DL12 postcodes only)
Andy will have stock of the calendars at forthcoming shows and events such as Wolsingham Show and Eggleston Show. Due to a very busy schedule there may be a slight delay in dispatching orders but we will process them as soon as possible. Please bear this in mind when ordering.
Here are all the images for the calendar, of course the wildlife images appear in a smaller scale on the product than shown here. Click on the images to see them in a lightbox slideshow.