Following the launch of my idea to frame up the pages of the faulty copies of The Wainwrights in Colour books (see here) to help raise funds for Mountain Rescue, I have been busy this week mounting the pages and dispatching them out to customers. The fells chosen by customers are a random selection, perhaps they have a special meaning but so far the most popular request has been for Great Gable. Due to the fact that the fell covers four pages in the book I am only sending these out unmounted to save on postage costs. However, someone locally has asked if I would frame a copy up for them to collect. Now I should point out that this is a special favour as I don't frame commercially anymore, I just don't have time.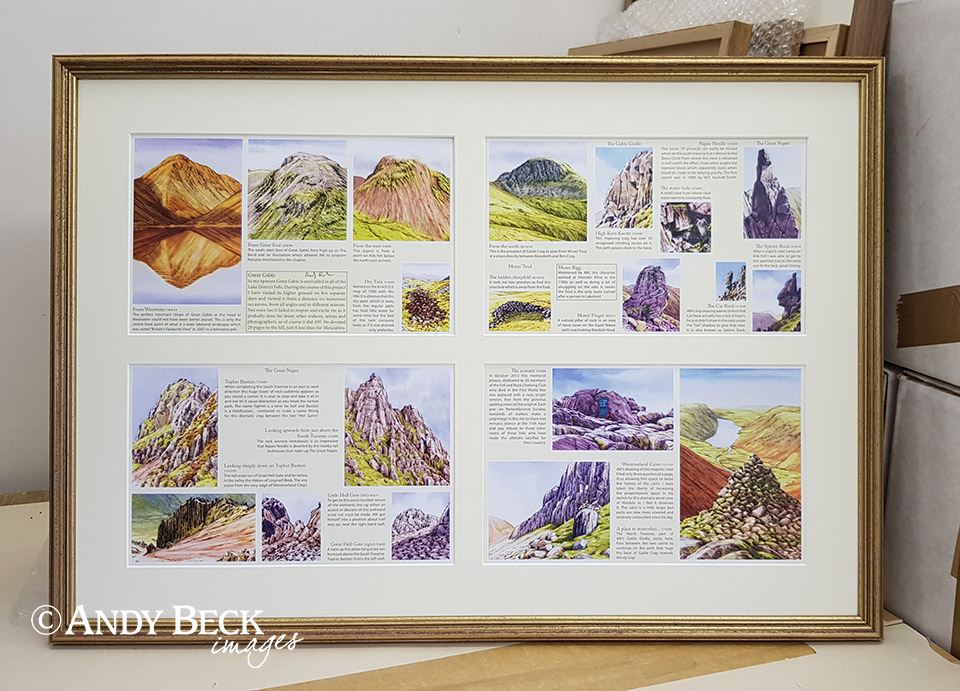 Perhaps it is because Great Gable is my favourite fell it was a real pleasure to mount and frame these four pages and even though I say so myself, they do look rather special. Of course, it's not as good as the original which I am proud to say is owned by my good friend Chris Butterfield. Chris in the past few years has collected a vast archive of Wainwright's printed material so to have my work hanging in his collection is a real honour. (Check out his Facebook page here).
In painting the 21 sketches for Great Gable I was challenged to paint a real variety of scenes, from intimate rock faces to far reaching vistas. It's one scene in particular though that is a favourite sketch of mine, the summit of Great Gable.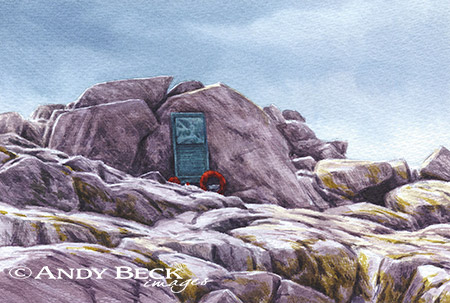 Of all of the 1500 paintings that I completed for the project this is easily in my top ten. I am very critical of my own work but I have to say that I think that I captured the scene in watercolour rather well, the light on the rocks, the lichen, the sky and the rock detail all combine to make a pleasing result. Of course the design was down to Wainwright. Whilst the memorial plaque, placed there by the Fell and Rock Climbing Club has since been replaced with a new and shiny copy I always prefer this original version which had aged into the rockface. I added artistic licence by including a wreath of poppies, which added more poignancy for me. That's the advantage of being an artist, I can include elements into the scene which make a personal connection instead of just taking comparative snaps of the Wainwright views.
As I write this it is Remembrance Weekend. In the past I have joined the throngs which gather on Great Gable summit on Remembrance Sunday at 11am to mark this occasion. Not something I will be doing this year but here is the film which I made from the event a few years ago.
Through the simple request from a client I was able to recall many good days out on this majestic mountain in a variety of seasons and for differing reasons. But isn't that why we all love being out on the fells, to make memories? I know I do. These pages certainly evoke such recollections not only for me but obviously for others too.
We will remember them………