So look what landed on my doormat this morning….The Summer issue of The Wainwright Society Magazine, Footsteps. Nothing special about that really as this quarterly which is issued to members of the society keeps us all up to date with the news of all things "Wainwright" (not actually as nerdy as it sounds). The nice thing for me about this issue is that once again I was asked to provide the front cover photo which I have done about four times up to now. Normally I take photographs for my own pleasure and choose the format (landscape or portrait) to suit the composition but as I have found out, images for the covers of magazines require a different sort of design. They firstly have to fit the shape of the publication but also there needs to be some space where the designer can include titles and headers not forgetting the fact that the images has to be seasonal for the issue.
So it was that for this actual edition I had to spend time trawling through my archives looking for something that fitted the bill here. Preferably I try to come up with a shot that I haven't used or published on social media or websites.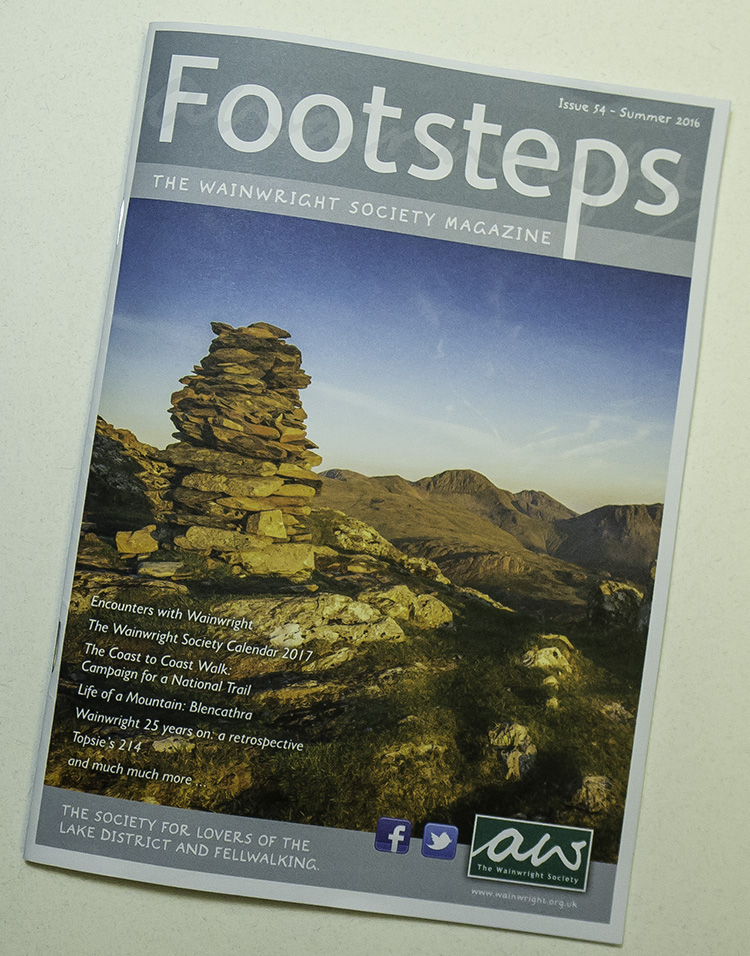 I recalled that last June, Bailey and I had a great wildcamp experience up of Fleetwith Pike in the western fells. The weather was fabulous, a great evening followed by an almost cloudless dawn. Due to my time limitations with work I have only really had chance to post one or two images from this day but on looking through my files the memories of this time came flooding back. Sometime, when the Wainwrights in Colour project is completed I will have to post reports on all of these walks which are gathering digital dust on my hard-drive. This is the full image, used on the cover of Footsteps.
As the evening sun was setting along the length of Buttermere the warm glow on the cairn and rocks near the summit framed the distant fells neatly. Afar, Scafell sits between the round dome of Great Gable and the large bulk of Kirk Fell. Only Bailey and I were here to witness the scene, the photograph doesn't do it justice but at last I have had chance to share some of it with you now. Prints of this image are available, just email me if you are interested in obtaining a copy.