A huge thanks to those who bought my Teesdale 2022 Calendar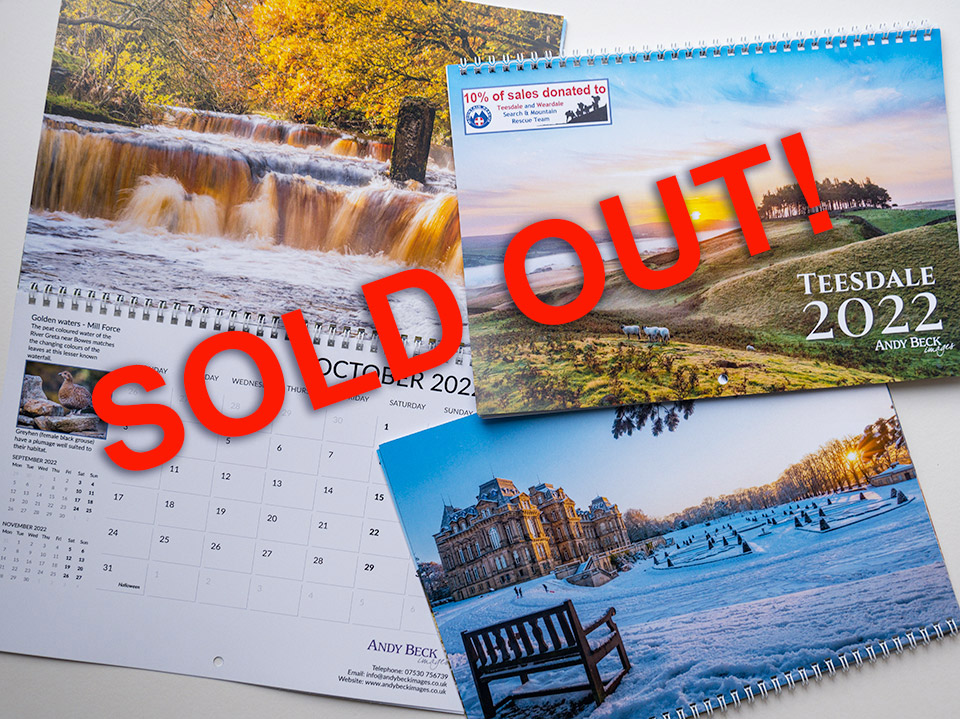 Apologies for the delay in making this blog post but things have been rather busy recently. But I am so chuffed to announce that the Teesdale 2022 Calendar has sold out. In fact, it basically was sold out on the weekend of the Bowes Museum Christmas Market back in December.
As you may recall, this year I decided to use the calendar to raise funds for the Teesdale and Weardale Search and Mountain Rescue Team. As a result I was able to send off a cheque to them for a total of £350. Consequently I recieved a nice email from the team leader, Steve Owers-
"Hi Andy On behalf of the Team can I thank you for your kind donation of £350.00 from the sale of your Teesdale calendars. We rely almost totally on public donation to run the Team so this money will be very useful to us."
As many of you may realise, the team were very busy at the end of last year by helping other agencies with the aftereffects of Storm Arwen. The Covid pandemic has hit many charities hard with a reduction in their fund raising events and collections. Hopefully the donation will go a little way to keeping them financially secure and enable them to continue their valuable work.
There are a few people to thank in helping to sell the calendars in Barnard Castle, namely Chocolate Fayre, The Post Office and Brookes Tailors. Also a big thanks to Gavin at the Northern Echo for giving the calendar a very helpful plug online and in the newspaper. Most importantly though is a big thank you to everyone who purchased a copy of the calendars, without you we couldn't have raised so much money for such a great cause. Thank you all.
I hope that you enjoy the calendars.
Andy
andybeckimages.co.uk
Average rating:
0 reviews